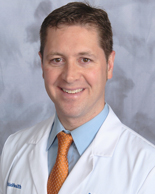 Address:
484 Country Line RD W #120
Westerville, OH 43082
"From an early age, I have always been interested in the healthcare field. My interest became focused on podiatry when I was exposed to the many types of medicine incorporated in the field of podiatry. I embrace the opportunity to solve foot and ankle problems by drawing from knowledge in the fields of orthopedics, sports medicine, dermatology, and wound care."
"During private practice, I have gained an appreciation for the importance of limb salvage in patients with lower extremity wounds and infections. I feel great satisfaction in using the most modern techniques in the field of limb salvage to save a leg and potentially change a person's life."
Dr. Bradley Mehl received a Bachelor of Arts from the College of Wooster in biology – genetics. He earned his Doctorate of Podiatric Medicine from the Ohio College of Podiatric Medicine. He then completed his surgical residency at the University of Utah / VA Medical Center in Salt Lake City, UT, serving as chief resident his third year.
Dr. Mehl is a Fellow of the American College of Foot and Ankle Surgeons and a Diplomate of the American Board of Foot and Ankle Surgery. He is Board Certified in Foot Surgery and Reconstructive Rearfoot / Ankle Surgery. Dr. Mehl is an active member of the American Podiatric Association and the Ohio Foot and Ankle Medical Association, having served as the treasurer, vice president, and president of the Central Academy. He is a faculty member at the Grant Medical Center Podiatric Medicine and Surgery Residency Program, and on staff at Riverside Methodist Hospital, The Ohio State University Hospital – East.
Dr. Mehl's hobbies include ice hockey, soccer, electric bass, and coaching his boys in all sports.